Missing teeth are a widespread issue among people all around the world. Studies have shown that most adults have at least one missing tooth in their mouth. Tooth loss should be replaced as soon as possible to keep the rest of the other permanent teeth aligned. Besides, replacing can support your facial shape and avoid looking overaged. Dental implants and dental bridges are two exceptional cosmetic dental options to replace missing teeth successfully. Of course, most experienced dentists believe that dental implants are better than other tooth replacement options. Generally speaking, there are various factors affecting the success rate of dental implant surgery. As a dedicated dentist providing dental implants in Richmond Hill, gender, the timing of implantation procedure, implant location, implant length, design, and the need for bone grafting all affect this success rate. This infographic provided by the experienced team working at 6006 Yonge Dental explains the factors of the success rate of dental implant surgery. Let's compare all advantages and disadvantages of dental implants and dental bridges to make a well-formed decision to eliminate the negative effects of missing teeth.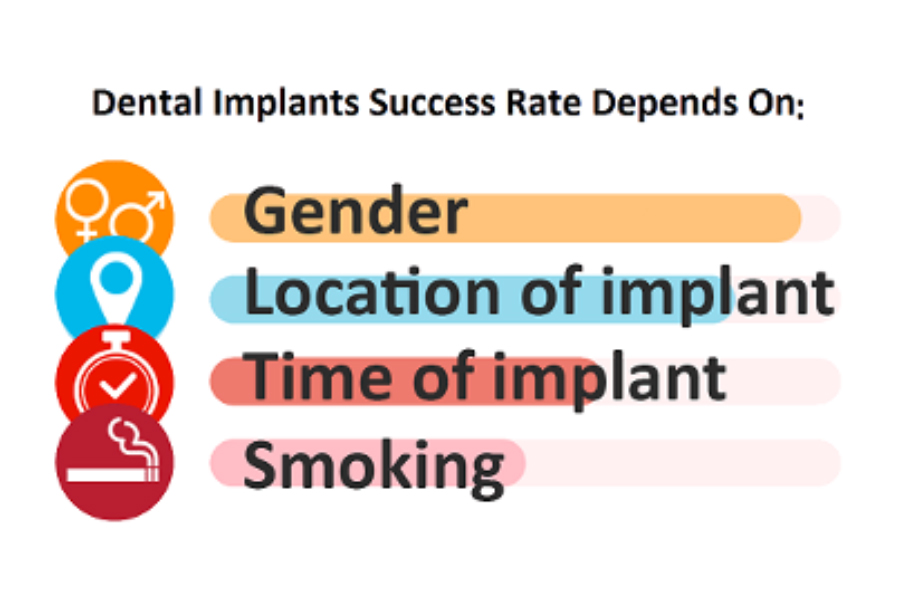 Dental Implant VS. Dental Bridges
Generally, both of these solutions can potentially deliver natural-looking results, but each method has specific pros and cons. The following items are a look at how these dental options compare.
Dental Bridges:
In this practical item, false teeth are held in the proper place by the surrounded permanent teeth. Special materials like porcelain or plastic are used to make dental bridges. The essential factor for choosing dental bridges to replace missing teeth is that you should have some healthy permanent teeth to support the bridges.
Pros
– Dental bridges don't require bone grafting.
– Their upfront costs are usually lower than a dental implant.
– Replacing missing teeth with dental bridges only require two visits with your dentists.
Cons
– Dental bridges need to be replaced every 5 to 7 years.
– They can increase the risk of dental decay and cavities in surrounding teeth.
– Those patients who have dental bridges in their mouth lose their natural-looking appearance with age.
Dental Implant:
During a dental implant operation, an artificial tooth root that is made of titanium is mounted into your jaw bone to hold a crown. This process will be performed surgically, but there's no reason to worry because you are under local anesthesia, so you won't remember anything or even feel any pain.

Pros
– Dental implant is the longest-lasting option of cosmetic dental treatments to replace missing teeth.
– The natural-looking appearance provided with dental implants will retain longer than dental bridges.
– Dental implants don't damage the surrounded teeth.
– Their success rate is very high, around 97 percent.
Cons
– Higher upfront cost
– The process of replacing missing teeth with a dental implant is lengthy. It takes up to six months.
– Dental implants may lead to surgical complications.
Bridges VS. Implant Costs
As mentioned above, dental bridges are generally cheaper than dental implants. But it should be noted following items can affect the prices:
– The various materials that are used to create them.
– The type of bridges and dental implant that you are receiving.
– The extensiveness of the treatments
The most important point that should be noted is that, although dental implants cost more, they tend to last longer than dental bridges, and there's no need to be replaced from time to time.
How to Choose Between These Two Practical Options?
The only one that can advise you about the best option for replacing missing teeth depending on your condition is your dentist. Your budgets, the number of missing teeth, and overall health are essential factors that should be considered before making up your mind.