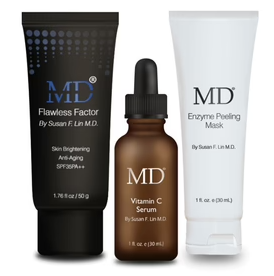 A typical issue for many people is oily skin, which can be brought on by several things and annoys us. This is because oily skin results in greasy skin, which causes more acne breakouts and other problems. However, oily skin may be managed with proper skin care. Yes, we know you are here to get an idea about a skincare routine that works! So, the overnight skincare routine below will keep your skin happy and give it a bright glow if you have oily skin and want to manage it.
How Oily Skin is Different?
In oily skin, the oil-producing glands are overactive. The pores enlarge and thicken due to the persistent oil leakage onto the skin's surface. Over time, the pores become less elastic and stay open. Because of this, oily skin has a rough texture. Open pores, blackheads, patches, pimples, and acne are frequent issues on oily skin.
How to Know If You Have Oily Skin
Face oiliness is a common problem; if you are confused about your skin type, check out these symptoms to know if you have oily skin.
Look if your skin is glossy or greasy.
The skin's pores are extremely noticeable or significant.
Scaly or unattractive skin
Either infrequent or recurring zits
Blocked Pores and blackheads
Night Skin Care Routine For Oily Skin
Cleaning is the most crucial step in oily skin care as more dirt and contaminants from the environment are drawn to oily skin. Therefore, the oil must be eliminated, and the pores must be clear of stuck-on oil. However, this does not suggest that washing the face with soap and water several times a day is optional. Overly vigorous washing with soap and water removes the skin's natural acid-alkaline balance, leaving it more prone to breakouts and acne. The most crucial time to clean is at night, when pollutants, grime, and makeup have collected over the day.
Utilize a cleanser explicitly designed for mild to oily skin types. Use a face wash or a cleansing lotion from MD Skincare, as they are designed for all skin types. Use a medicated soap or cleanser for issues including spots, blackheads, pimples, and acne to helping eliminate pollutants without upsetting the acid-alkaline balance.
Get Yourself an Astringent Cream
Lotion with astringent properties aids in removing oiliness. Apply a skin toner or an astringent toner to cotton wool and clean your face after washing it. Use rose water in equal parts to dilute an astringent lotion if it is too strong. Rose water itself is a natural skin tonic. Rose water and cucumber juice can be combined in equal parts and applied topically to oily skin to tone and minimize shine. Also, choose the best anti-aging product suitable for your skin type.
Use Face Mask to Detox
Enjoy the benefits of face masks while you pamper your skin. Your skin will be soothed and treated gently as a result. The dullness of your skin can be revived, and tans can be reversed with a homemade face pack.
Don't have time for home remedies? Try MD skincare products! The products listed on their website are formulated with natural ingredients.
We Have Some Additional Tips!!
People who are prone to breakouts and acne or who have oily skin shouldn't use night creams. For oily or acne-prone skin, night care includes cleansing, toning, and using treatments to reduce breakouts.
Select skincare items with the designations "oil-free" and "non-comedogenic." Thus, items with these labels, such as cleansers, moisturizers, and makeup, won't clog your pores or result in acne.
Many people think a potent face cleanser for oily skin is necessary to dry up their skin. On the other hand, a strong face wash can irritate your skin and cause it to produce more oil. Instead, seek out a soft, delicate face wash.
Regardless of how tempting, touching your face can transfer bacteria, oil, and other impurities from your hands to your skin. Only approach your face to cleanse, moisturize, apply sunscreen, or put on makeup, and always wash your hands before touching your face.
For the paper to absorb the oil, lightly press it against your face and let it be there for a short while. Avoid rubbing the paper against your face because doing so will transfer the oil to other regions.
Utilizing sunscreen can help stop UV damage that could cause skin cancer, age marks, and even wrinkles. Avoid using sunscreens with smell or oils and opt for products with zinc oxide and titanium dioxide to avoid acne outbreaks.
Conclusion
Oily skin is not a more significant issue when you know how to deal with it. Always use the best anti-aging products, creams, & cleansers made with natural ingredients to avoid additional problems. We hope you have got things clear now. Wait!! One last yet most important tip, give your skin time, don't panic when remedies don't work instantly, and be patient while following any tips.